DH Gala Dinner
Hotel de Region de Lyon
Tuesday 24th April 2018, 8.30pm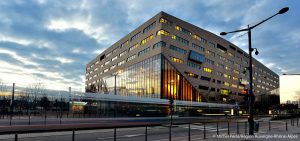 1 Esplanade François Mitterrand – Lyon 69002
Getting to Hotel de Region from Cite Centre de Congres: Tram station « La Doua – Gaston Berger » (line T1 direction: Debourg) to « Hotel de Region – Montrochet » approx. 35 mins.
Please note: Full DH conference passes include a ticket to the DH2018 Gala Dinner on the evening of Tuesday 24 April. One day tickets do not include the DH2018 Gala Dinner. A ticket for the Dinner can be purchased separately for EUR75.
Sponsored by:

About our sponsor: After the success of its 5 previous editions, Bayer G4A Accelerator will welcome another batch of innovators in its offices in Berlin during 3 months. Applications are open until 31st of May. G4A, the digital health division of Bayer is committed to putting people at the center of their health and wants to do so by collaborating with innovative like-minded entrepreneurs with digital health solutions in the following areas: Women's Health (e.g., Endometriosis), Cardiology (e.g., heart disease prevention), Neurology (e.g., sleep and cognition), Digital Therapeutics (e.g., chronic diseases), AI for R&D (e.g., simulations), Virtual Trial Applications (e.g., data analysis), Blockchain (e.g., treatment options) and Physician and patient engagement solutions.
The lucky winners will have access to:
100 days of office space in Bayer Pharma Berlin
50k euros grant
Mentoring and coaching by Bayer executives, experts and entrepreneurs
Intense networking
Check G4A website for more information about each areas and to submit your application. Bayer wants to partner with creative companies like you to make a change! Join the adventure and submit your application until May 31st.
Don't hesitate to reach out to G4A team at grants4apps@bayer.com if you need any help.
Supported by: