What's on for Industry?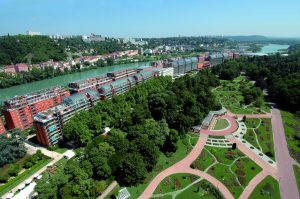 NETWORK – LEARN – JOIN – PRESENT – EXHIBIT
Together we're forging the future of digital health.
The 8th International Digital Health Conference 2018 (colocated event at The Web Conference 2018) will be a unique thought-leadership and networking event bringing together members from the five key stakeholder groups – industry, SMEs, healthcare and academic researchers – to learn, present, network and discover.
"As a smaller conference I thought it was valuable to be able to network with many delegates and this fostered a very good atmosphere" – DH Industry Delegate
"I met new, interesting people, and a new project is being developed as a result" – DH Industry Delegate
Industry – Reasons for attending:
• Identify upcoming innovations and industrial partnership opportunities
• Understand current international policy initiatives and frameworks
• Develop international research partnerships with other stakeholders
SME – Reasons for attending:
• Network with key international corporate players in healthcare
• Develop partnerships with businesses and researchers
• Identify optimal routes to market for new products and services
• Attend at a non-profit rate introduced to attract business leaders and start-ups
Why should I attend?
NETWORK in an enjoyable way over a glass of wine at the the poster and demo session designed to maximize opportunities for businesses and start-ups.
Participate in the B2B networking session, supported by Enterprise Europe Network. This aims to initiate R&D, technological and commercial collaborations between conference participants. Participating will provide you with the opportunity to:
Promote your projects, products and/or services
Initiate cross-border contacts and co-operation
Find new business and R&D partners
Present, discuss and develop new projects
LEARN about new innovations and cutting edge research presented by academics, computer scientists, healthcare professionals and industry speakers
JOIN in the debate about the role and application of digital health in Public Health in the high-profile panel debate
PRESENT a demo/poster of your product – submit a short outline via call for papers / poster & demo submissions
EXHIBIT your products and showcase your ideas to key influencers and players in digital health at the conference
Key dates:
Poster / Demo Submission Deadline: 26 Feb 2018
Registration opens: Feb 2018
DH2018 Conference: 24-26 April 2018
Supported by: